Hike It! Board Game Needs Your Photos!
BACKGROUND
My name is TJ and I am creating a hiking / backpacking board game that takes place in the Smoky Mountains.  It is launching on Kickstarter this June.
While playing Hike It!, your will be traversing the smoky mountains and stopping by many of it's glorious scenic or historical sites.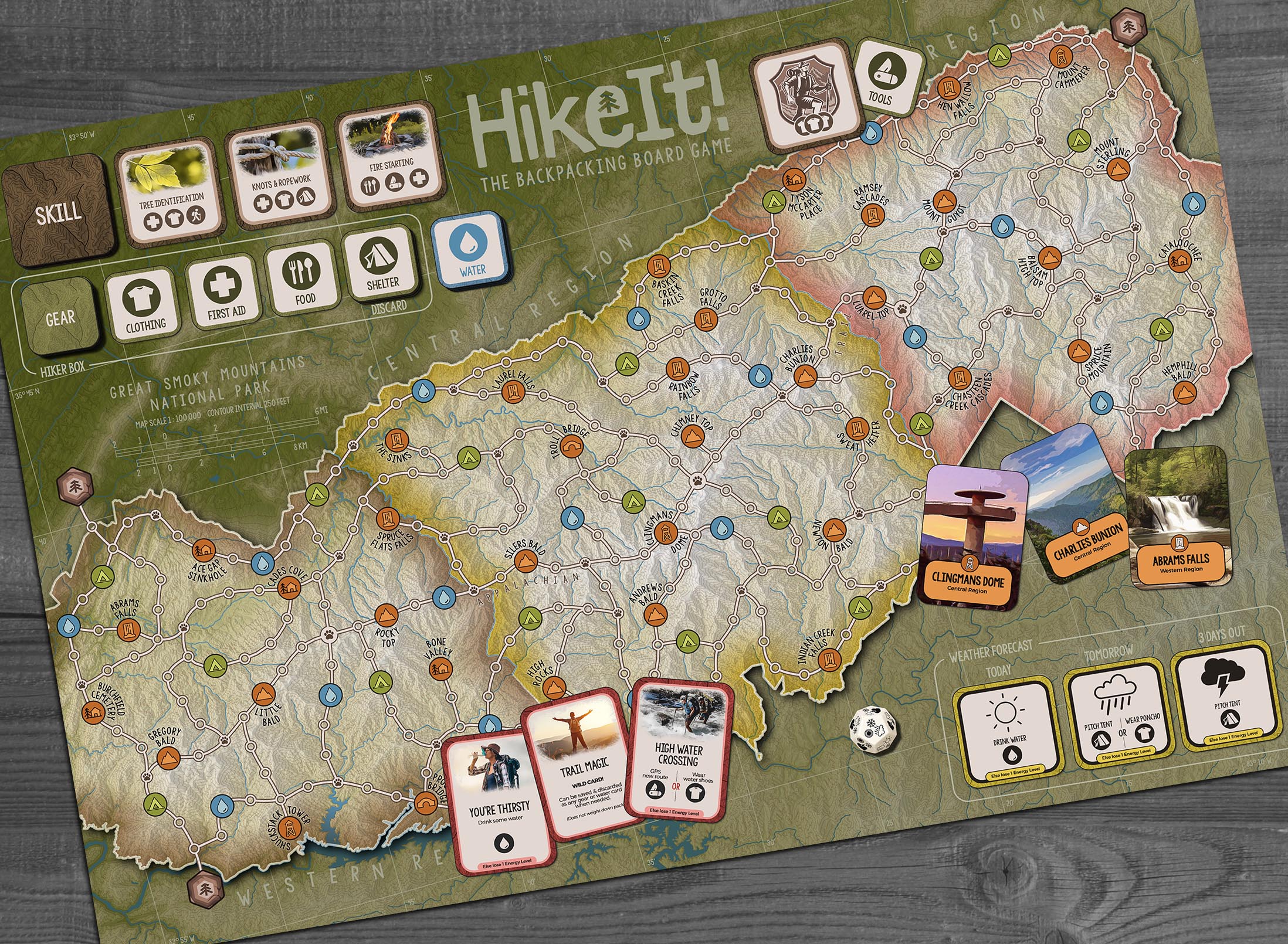 (FYI – The board you see above is not final and some of these scenic sites may change based on image availability and game balancing. Also know that many popular sites are left out due to their proximity with other sites, as well as some trails and site locations have been 'massaged' to help balance the gameplay – this ISNT and exact replica map of the sites and trails of the Smokies… it is a board game)
One of the components for this game is the SITE CARDS that have a picture of that site on it.  (shown below)   These images are treated with a design effect to make them feel a little like a painted picture, but still maintain much of the detail and beauty of that spot.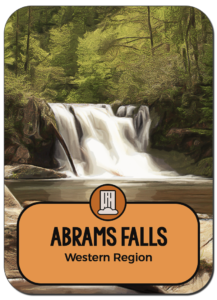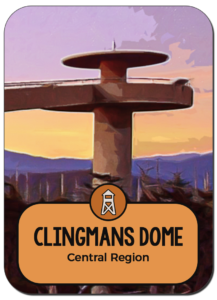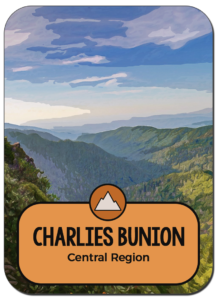 THE REQUEST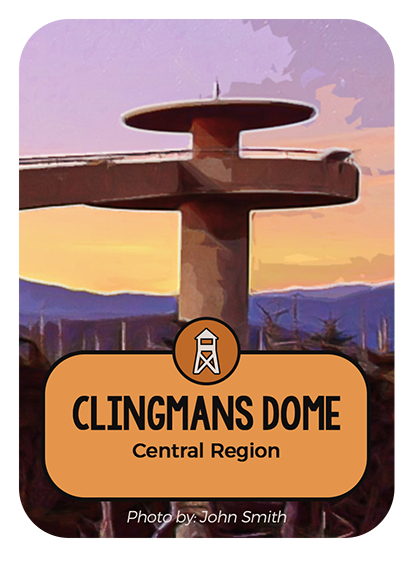 So here's the deal.  All the images used in this game MUST be licensed (thru purchase) or taking by me so they can be legally used in the board game.  Some of the most popular sites in the park have a lot of cheap purchase options on many stock photography sites, but most of the lesser known locations are NOT available for purchase.
This means I was planning a trip in the next 45 days into the Smokies (from Cincinnati, OH) to try to capture as many of these as I could myself (I am also an amateur photographer).
Then it hit me,… there are tons of Smoky Mountain hikers and fans out there that may have the photographs that I need for the game and would be willing to share.
So I am proposing that if you have any of the photos for the sites listed below on this page, and you send them in to me for use on the game, and I use them,…I would be able to give you credit for that photo on the box, in the rule book, on the website AND ON THAT SPECIFIC SCENIC CARD! (as seen in the example – "Photo by: _______").
THE RULES
You must own that photo and have taken it yourself – otherwise it is illegal for me to use.
The photo must be high quality (not pixelated or blurry), high resolution (large), and in good lighting (not too dark).
No people in the photos (unless it is a damn fine shot and the people are more background and can't be made out)
Photo must be sent in their

original digital format

– no hard copies or scans.
All photos must have been taken in the late spring, summer or early fall (leaves on trees) – no winter pics (no dead trees or snow)
All photos must be submitted by April 15th 2021.
HOW TO SUBMIT YOUR PHOTO
To submit your photo(s),
Email them to [email protected]
Include name of the scenic spot and when it was taken

If sending multiple images, please make sure its clear what photos go with what names

Include your full name & email address
Please copy and paste the following line into your email "I have taken this photo myself, I own all rights to it, and I give Hike It! permission to use it in their game."
If your photo is chosen for that scenic site's card, I will contact you via email with a digital sample of the card for you to approve for use.  Then your work of art will be forever part of the Hike It! board game.  🙂
Thanks so much for your help bringing this game to life.
Abrams Falls
Alum Cave Bluffs
Andrews Bald
Balsam High Top
Baskins Creek Falls
Bone Valley
Burchfield Cemetery
Cades Cove
Calhoun House
Cataloochee
Cataract Falls
Charlies Bunion
Chasteen Creek Cascades
Chimney Tops
Clingmans Dome
Deep Creek Valley
Gregory Bald
Grotto Falls
Hazel Creek Cascades
Hemphill Bald
Hen Wallow Falls
High Rocks
Indian Creek Falls
Indian Flats Falls
Jerry Flats Cemetery
Laurel Falls
Laurel Top
Little Bald
Little Creek Falls
Little Greenbrier School
Lynn Camp Prong Cascades
Maddron Bald
Mingo Falls
Mount Cammerer
Mount Guyot
Mount Le Conte
Mount Sequoyah
Mount Sterling
Mouse Creek Falls
Nettle Creek Bald
Proctor Bridge
Calhoun House
Rainbow Falls
Ramsey Cascades
Road To Nowhere Tunnel
Rocky Top
Sequoia-Indian Cemetery
Shuckstack Tower
Silers Bald
Smokemont
Spence Field
Spruce Flats Falls
Spruce Mountain
Sweat Heifer Cascades
The Sinks
Troll Bridge
Twentymile Creek Cascade
Tyson McCarter Barn
White Oaks Sinks Cemetery
Wike Cemetery
Willis Baxter Cabin