Welcome to the Great Smoky Mountains!
Hike It! is a heavily themed, mid-weight, strategy-based tabletop board game that offers solo, competitive, and team options.  Every game is unique because YOU determine your route, you pack your own gear, and you decide how much you want to push your luck to brave the elements and mother nature.
Your objective in this thematic medium-weight board game is to have the best experience trekking to your three waypoints in the Great Smoky Mountains before hiking back to your trailhead. Your experience is measured in victory points, earned by collecting scenic spot and skill set tokens, completing side hikes, and maintaining your health. And by completing your hike first you earn extra victory points and can return to the game as an aggressive bear to scare the remaining hikers back to their own trailheads!

Sign Up for the Hike It! Newsletter
Get all the latest news, updates and announcements delivered right to your inbox.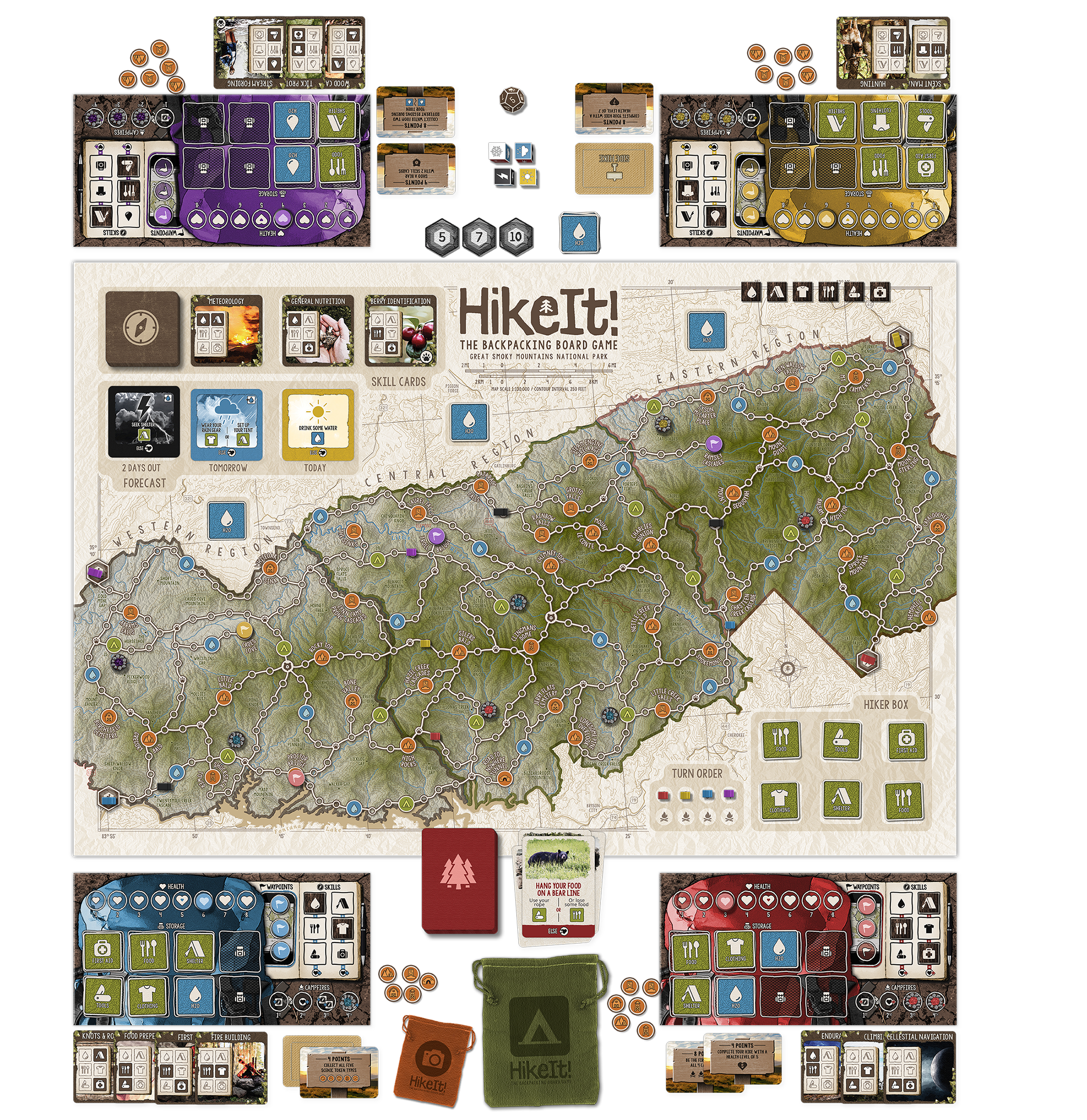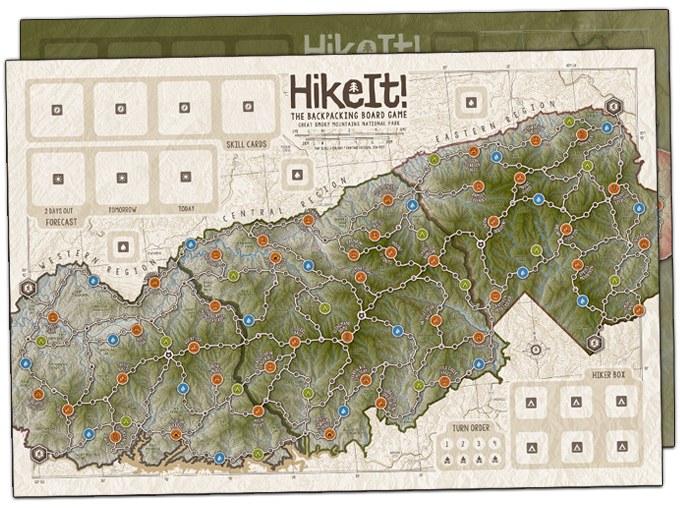 1 Double-Sided Game Board
This beautifully detailed map of Great Smoky Mountains National Park serves as the game's board and depicts actual hiking trails, campsites and scenic spots found in the park!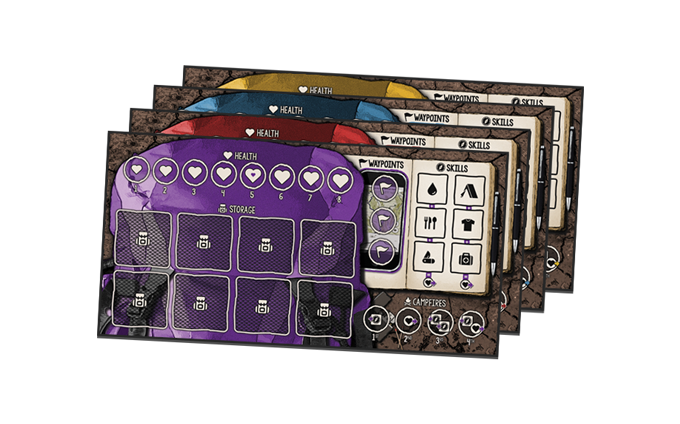 4 Dual-Layered Player Boards
Your packboard is your lifeline during your trek. It monitors your health, holds your gear and water, tracks your waypoints, and organizes your skill sets.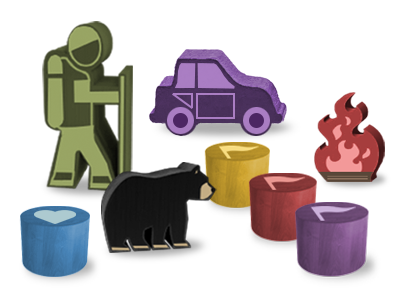 47 Wooden Meeples, Markers & Tokens
Every hiker meeple, vehicle meeple, bear meeple, campfire token, health marker, and waypoint marker is made of wood and has silkscreen artwork.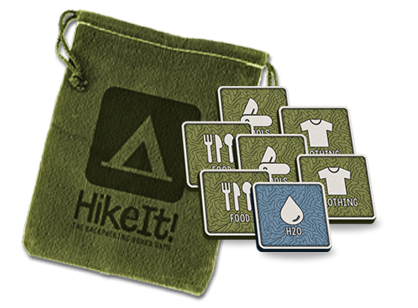 69 Wooden Gear & Water Tiles
Carry gear & water in your backpack to cope with stretches of bad weather as well as adversities that you will face while out on the trail.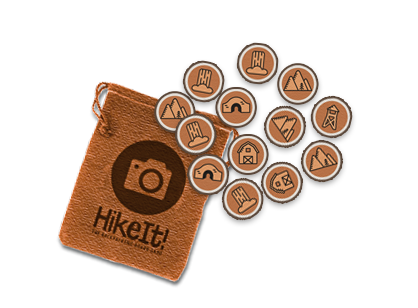 43 Wooden Scenic Tokens
Whenever you pass a scenic spot on the trail, make sure to pick up its token: each one is a real location in the park and is worth end-game points.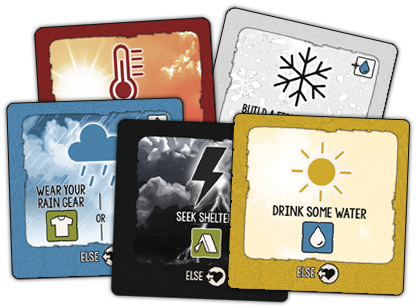 30 Weather Cards
Weather cards let you know the 3-day forecast so you can be prepared for inclement weather that's coming your way.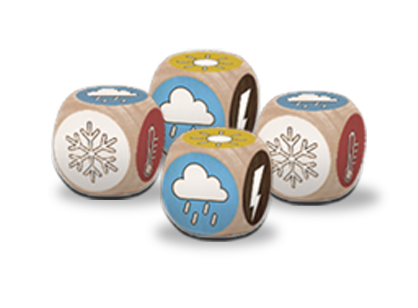 4 Wooden Weather Dice
At the start of your turn, roll the weather dice to see if today's forecast was accurate. If it was, hopefully you prepared for it!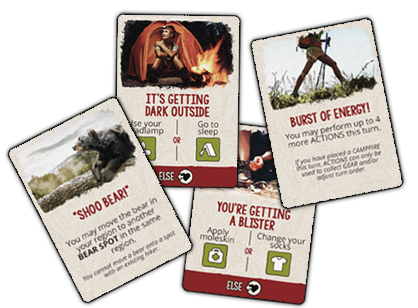 100 Trail Cards
Trail cards represent the unplanned and uncontrollable events that can occur during any lengthy backpacking trip.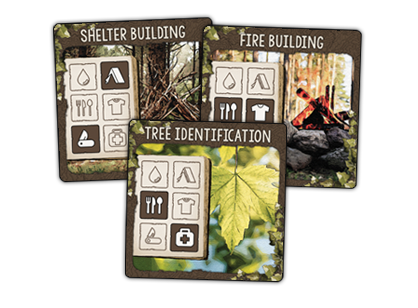 54 Skill Cards
Skill cards are earned when you overcome weather or challenges. Three skill cards with the same icon can be exchanged for skill set tokens.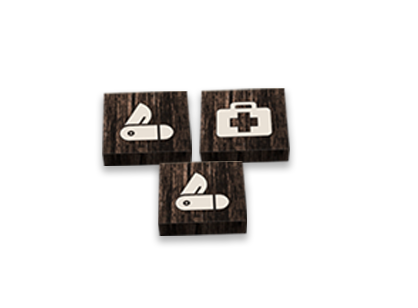 30 Wooden Skill Set Tokens
Three skill cards with the same icon can be exchanged for a skill set token that is worth five victory points at the end of the game.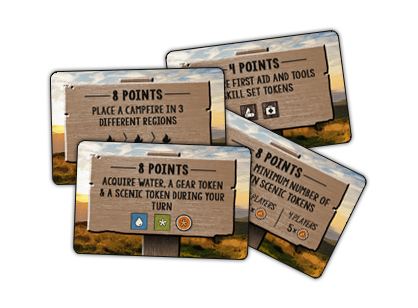 30 Side Hike Cards
Side hikes are optional personal objectives you may complete during your trek that offer a substantial boost in victory point.
Dice Tower Crowd Surfing – Hike It Preview
A Board Game Rundown – Preview
Board Game Garden – Review
Board Game Rundown – How to Play
Board Game Binge – Interview
Blue Falcon Board Gaming – Interview
Board Game Garden

"Hike It! is probably the most thematic hiking game that I've ever played. It's a great game for people new to the hobby, but it's also great for people who have been in the hobby for years who want to play a good, thematic hiking game."
Jenna Rose